John Peek, Martial Arts Instructor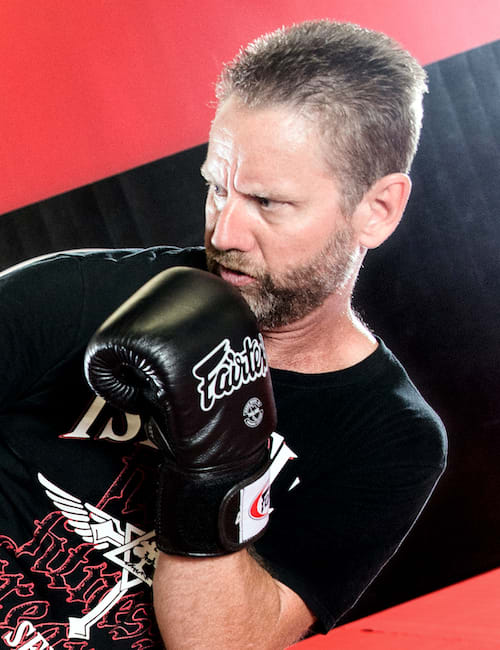 John Peek
John Peek is a self defense expert in hand-to-hand fighting, with and without weapons, and firearms training specialist with over 33 years of experience. He serves as the owner and head instructor at Krav Haganah, continually enhancing the classes to achieve the highest level of instruction for the students.
John teaches the Krav Haganah class, knife fighting class, BJJ combatives class, combat fitness class and private lessons. He assists and sometimes teaches the Muay Thai Kickboxing class, Bully Proof for kids class and the Boxing classes.
John started his formal training in martial arts in 1985 in the Wah Lum Tam Tui Kung Fu system founded by Grandmaster Pui Chan. He became an assistant instructor under Sifu Wallace Cupp. He dedicated many years of training in the Wah Lum system and trained at the Wah Lum temple with Grandmaster Chan and other guest masters from China. He competed during his early training years and won many tournaments. One of the highlights while training with Grandmaster Chan was when he twice brought the Shaolin Monks from China to train with the Wah Lum students. These were the same Monks that went on to perform in sold out stadiums, amazing audiences around the world.
John continued his studies in Muay Thai Kickboxing, Hapkido, Judo, Aikido, and Brazillian Ju Jitsu. In early 2000 John found the Israeli arts of Krav Maga and Haganah being taught in the same facility. Spending time learning some of both, he decided that Haganah was the one for him and continued his Haganah training under former U.S. San Shou fighter and trainer of professional athletes James Cooper. He went on to receive the following Haganah Instructors certifications under founder and former, Israeli Special Forces-Golani Brigade member Mike Lee Kanarek: F.I.G.H.T., ITK (Israeli Tactical Knife Fighting), Trench Fighting, Ground Survival and S2B Muay Thai Kickboxing; under James Cooper as a Combat Fitness instructor; and under Police/S.W.A.T. Officer and Pro MMA fighter, John Clark, as a Combat Wrestling instructor. He went on to complete the ICS-1000 (Israeli Combat Shooting) under Mike Lee Kanarek, and the intense I.P.T.T. Counter Terrorism course, which included training in, Handcuffing and Securing, Combat Medic, Land Navigation, (day and night, urban and wilderness), Handgun and Rifle, (Solo, 2, 3, and 4 man teams), Combat Fitness,Tactical Knife Fighting, and Hand-to-Hand Defenses, under former Israeli Special Forces - Duvdevan Unit member/instructor Garrett Machine and former Golani Unit member, Mike Lee Kanarek.
John received his first degree Black Belt under Mike Lee Kanarek in January 2010, his 2nd degree Black Belt in 2015, and his 3rd degree Black Belt in 2016. He's completed the very difficult "Black Patch" shooting course. He also earned the Green "Counter Terror" course patch, Red, "Deception" course patch, Blue, "Mind/Might" course patch, GORUCK "Night Shooting" course patch, RIFLE - "Team Tactics", under Garret Machine and was one of only 27 Black Belts in the world in the Haganah system. He also received International Haganah Federation's - 2012 - "Black Belt of the Year". John has continued to evolve by becoming certified in other world-renown systems: He is a Certified I.C.S. (Integrated Combat Systems) Instructor under Peter Sciarra. Peter Sciarra is the ICS Head Instructor, he holds a level 11 Black Belt and is currently Australia's highest ranked Close Quarter Combat instructor. John completed the Defensive Options for Military and Police Instructor Course and FireARMED certification course with Fit-to-Fight instructor, Ryan Hoover. He has a Level 3 Basic Instructor Certification in Hand/Unarmed Combatives, Knife Level 1 and 2 Certification, and Gun Level 3 Instructor Certification through Force Necessary instructor, Hock Hochheim. Additionally John has extensive training and certifications through Garret Machine, former Israeli Special Forces Duvdevan and current military and law enforcement firearms trainer. He has received the following certifications through Garret Machine: Green Patch - counter terror warfare, land navigation and combat medic; Red Patch - Pistol and Rifle from car and third party protection; Black Patch - Pistol and rifle under stress, with timed, accuracy and threat scenario engagements; Force-on-Force Pistol Simunition; and Force-on-Force Rifle Simunition. John has also received certification from the Department of Homeland Security Federal Emergency Management Agency for the Harris County Community Emergency Response Team (CERT).

John is currently teaching Krav-Haganah, a blend of Israeli martial arts with the latest Close Quarter Combat techniques used in anti-terrorism fighting, with classes specially designed for civilians, military, and law enforcement officers. He is also training several church teams for active shooter prevention and defense.

For many years John worked days at a plant and nights as a martial arts instructor. He worked in the Petro-Chemical industry for 30 years as an Instrumentation and Control Specialist. He has received numerous certifications in specialty areas and became an expert in areas related to instrumentation and controls for plant applications, implementation, and troubleshooting such as PLC's, DCS programing, radar, ultrasonic, mass flow, analyzers, speed, temperature, pressure, and weight transmitters and control valves.
He retired from BASF Catalyst LLC as a Sr. Instrumentation Specialist in Pasadena, Texas and is now a full time instructor at Krav Haganah in Houston - Israeli Self Defense, Fitness, and Firearms.
His favorite hobbies are any water related activities; Surfing, SUP paddle-boarding, windsurfing, sailing, skiing, kayaking, fishing, and diving. The next sport he plans to take up is kite-boarding. He received the first 4 hours of flight training to obtain a "weight shift" pilot license under CFI Dane Hauser of Evolution Trikes. http://www.evolutiontrikes.com/
John and Joy attend their local Calvary Chapel, which teaches the Bible verse-by-verse and line-by-line for a deeper understanding of God's Word. John is ordained as an Associate Pastor by Calvary Chapel.