From Firearm Training To Knife Fighting, Our Self-Defense Classes Have You Covered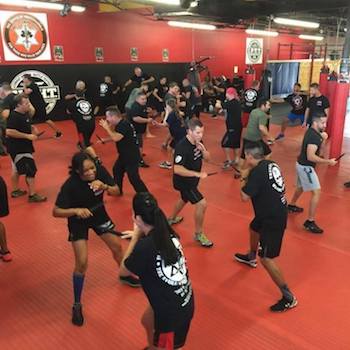 At Krav Haganah, everything we do is focused on real-world self-defense and protection from anything life puts in your path. That's why we offer a comprehensive Israeli Self-Defense system where you'll not only have the chance to take on the best Krav Maga classes around but also master a wide range of targeted disciplines, and even get in great shape in the process.
We work with people from all across Webster, Houston, Clear Lake and League City. No prior experience is needed to thrive with us.
Fill out the short form on your screen to learn more today!
What Can You Expect From Our Self-Defense Classes?
Rather than mash together multiple disciplines into one Self-Defense system, we work hard to provide thorough, detailed instruction in every system you could ask for.
The foundations of Israeli Self-Defense were developed in a hostile environment in which time and preparation were limited. Because of that, there are no forms (katas) or rules. Students are instead taught to defend themselves with repetition of techniques, muscle memory, and instinct.
At Krav Haganah, you can take on:
Krav Maga: Learn what it takes to stay safe in a street fight. This class is all about total-body self-defense in the face of a chaotic environment.
Firearm training: From handguns to rifles, we'll teach you how to safely handle any firearm. This system includes a focus on cleaning, draw techniques, accuracy, jam corrections, and more.
Boxing: Learn how to strike with power and speed and take on a heart-racing workout at the same time. Our boxing classes are focused on self-defense rather than competition.
Knife Fighting: There's nothing more dangerous than being unprepared in the face of a knife attack. We'll help you learn how to combat and disarm an opponent in a matter of seconds.
Combat Aikido: This open-hand self-defense system teaches you how to redirect an opponent's strength and momentum with quick and easy movements on the path to submission or control.
Muay Thai: The Art Of Eight Limbs is perfect for any self-defense situation because it teaches you how to strike an opponent using any limb of your body.

Stick Fighting:

Sometimes, it's about using whatever you can find to defend yourself. Our stick fighting system is perfect for real-world self-defense against an armed attacker.
BJJ Combatives: Focus on ground-based strategies and control on an opponent from any position. We'll help outlast even the biggest, strongest person you come across.
Don't Miss Out On Webster's Best Self-Defense System
If you're ready to face life with more confidence than ever before, come see us today at Krav Haganah. We're committed to professional Self-Defense training for people all across Webster, Pearland, South Houston, and beyond.
Fill out the short form on your screen to learn more today!